After 25 years since the very first presentation, Antonio CItterio amends the entire collection through a meticulous analysis, rethinking its functionality, its aesthetics and its technical aspects.
New sizes of tables and sofas have been introduced, with new and improved upholsteries and redesigned stitching-motifs. The collection has also been enriched with new covers and materials, natural woods and coordinated metal finishes, exclusive leathers and fabrics, and also new colors and textures. Maxalto confirms its character and sense of harmony through a defined and coherent upgrade, eventually establishing a new and ideal universe in which elements relate to others in an always elegant and effortless manner.
SOME OF THE 2021 NEWS:
Dives Soft sofa · Lucrezia Soft sofa
Febo dining sofa and Pathos table
Abseo table · Max Writing desk
Cuma Console · Alcor small tables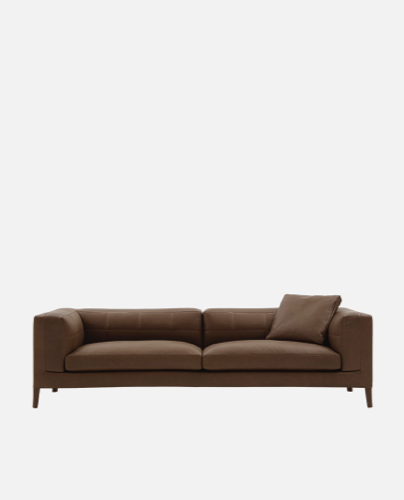 Dives Soft is the series of linear and modular sofas in various sizes, made even more comfortable by soft and comfortable padding.Thanks to the two different seat depths, smaller or more generous, Dives Soft is able to meet different needs, customising the compositional solutions with new terminal elements and chaise longues. Coverings are available in a wide range of fabrics and leathers with dedicated tailoring details.
Elegant and light in its proportions, Lucrezia Soft has several new features that accentuate its distinctive characteristics. The comfort is enhanced by particularly generous padding, and attention to detail is further emphasised by the new metal base and the compositional options that are extremely varied. The sofa can be customised by combining back cushions, either neatly arranged or informal, with seat cushions, with a band and piping, or capitonné stitching.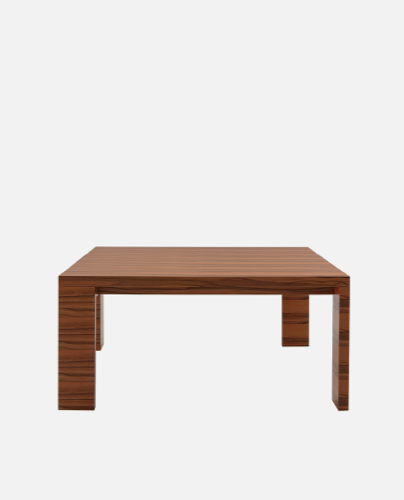 A striking table, with an essential design underscored by thick profiles and asymmetrical legs, making it a piece of furniture that dominates any room. Available in one square and two rectangular sizes, the table now comes in a new version in semigloss Chilean tineo wood, a precise stylistic feature also found in other pieces in the collection. The special folding technique used to create it highlights the table's refined workmanship, creating perfect continuity between the surface and the edges of the top.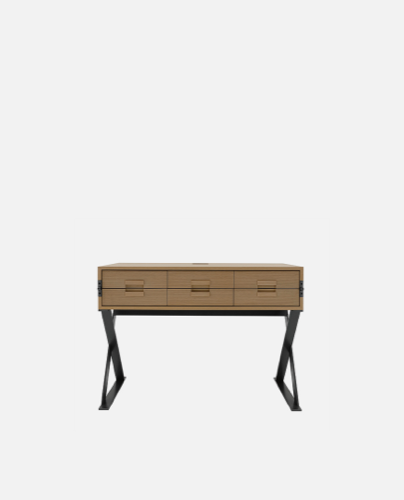 A writing desk reminiscent of a classic bureau with a contemporary twist. It stands out due to its extraordinary attention to detail, making it a precious treasure chest. The main features of this flip-top desk are the special X-shaped design of the steel structure and the geometric design of the drawers. The Max family is also enriched with a new desk format, which comes in various wood finishes including brushed light oak, brushed black oak, natural wenge, suitable for furnishing studies and home office spaces.