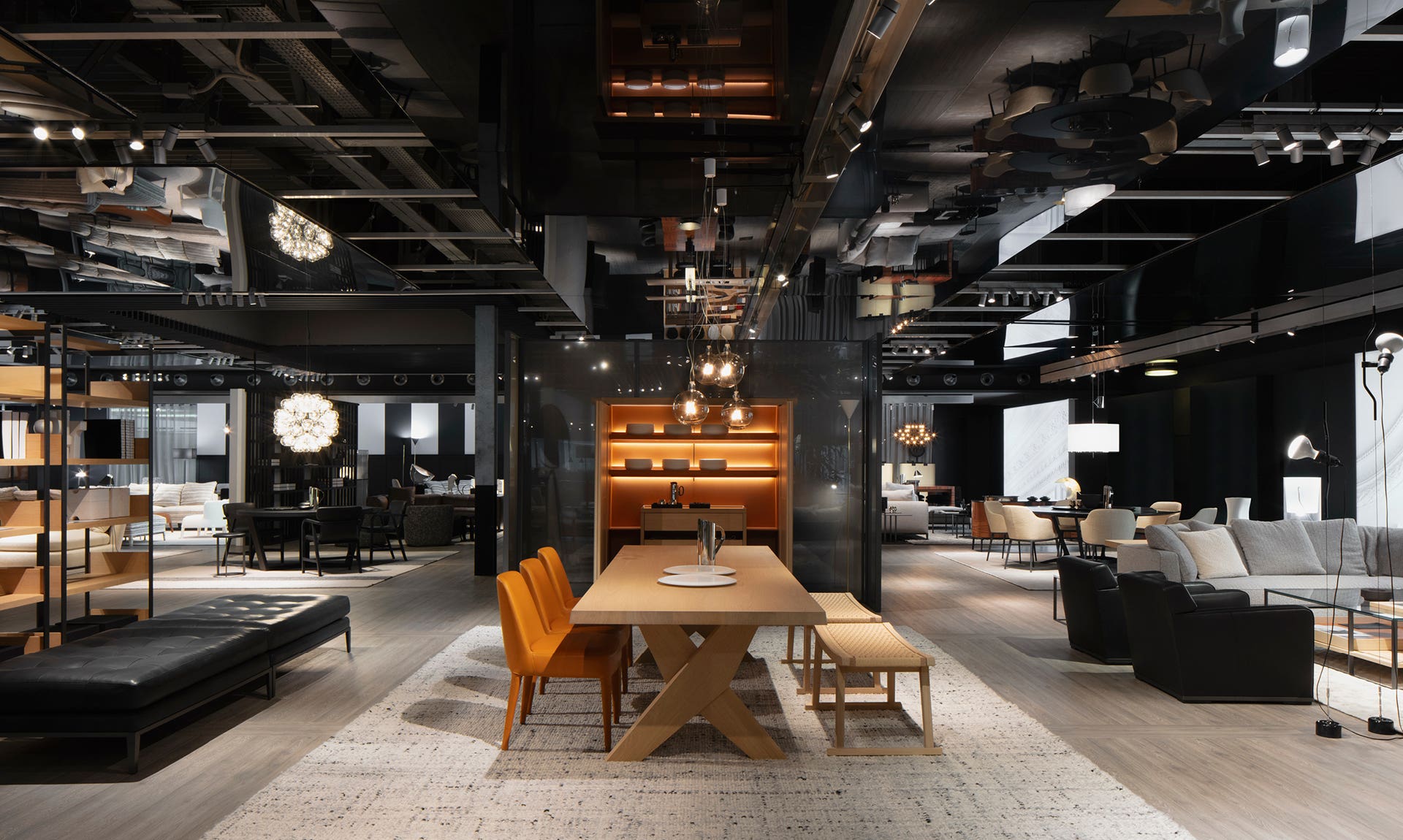 The Maxalto showroom at the headquarters in Novedrate is a space reserved for sector operators. It serves as presentation of the collection and as an ideal display model. From combinations of different products to finishes and materials, from graphic design to wood panelling, lighting and styling: conception sees every single detail as part of a whole, a stage designed to express the collection's qualities of style.
THE IDEAL EXPRESSION OF MAXALTO STYLE
Living and dining areas alternate with home working spaces and bedrooms. The collection features a variety of type yet homogeneous style and this, together with a precise showroom format provide the basis for a consistent dimension where all the elements combine to define the exclusive character of the range.
LIVING AREA
Sofas and armchairs in the centre surrounded by ottomans, coffee tables, small storage units and bookcases. In the living areas, the different products always manage to find a balanced combination of form, perfectly in line with the Maxalto philosophy.
DINING AREA
In different shapes and sizes, Maxalto tables are the perfect answer to the design needs of the dining area. Freely combined with chairs and cupboards from the collection, in their different styles, materials and functions, they allow for a vast range of solutions.
BEDROOM
The bed is the main player, accompanied by benches and night tables, coffee tables and armchairs, chaises longues and dedicated storage units. The Maxalto bedroom is an intimate sophisticated space for harmonious everyday living.
MAXALTO ATELIER
Maxalto Atelier is the dedicated area for the brand's collection of materials, a showcase for all the originality and coherence of an exclusive range. Available in large formats, the various samples of fabric, wood, leather, metal and lacquer are available for interior designers and clients to peruse, for a unique design experience that is all about creativity and top technical and style quality.